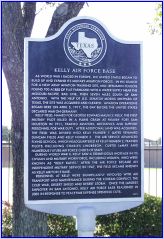 Texas Historical Commission
KELLY AIR FORCE BASE
As World War I raged in Europe, the United States began to expand and build up its military aviation forces. In his search for a new Army aviation training site, Maj. Benjamin Foulois found 700 acres of flat farmland with a water supply line near the Missouri-Pacific rail line, then seven miles south of San Antonio. With the help of U.S. Senator Morris Sheppard of Texas, the site was acquired and cleared. Aviation operations began here on April 5, 1917, the day before the United States declared war on Germany.
Kelly Field, named for George Edward Maurice Kelly, the first military pilot killed in a plane crash at nearby Fort Sam Houston in 1911, trained aviators, mechanics, and support personnel for war duty. After additional land was acquired, the field was divided into Kelly Number 1 (later renamed Duncan Field) and Kelly Number 2. The Air Service advanced flying school, headquartered at Kelly Number 2, trained pilots including Charles Lindbergh, Curtis LeMay and numerous Air Force chiefs of staff.
During World War II, Kelly saw a tremendous increase in its civilian and military workforce, including women, known as "Kelly Katies." After the Air Force became an independent military service in 1947, the field became known as Kelly Air Force Base.
Personnel at Kelly were significantly involved with with air transport and maintenance during the Korean conflict, the Cold War, Desert Shield, and Desert Storm. Once the largest employer in San Antonio, Kelly Air Force Base realigned in 2001 in response to peacetime defense spending cuts.