A TRIBUTE TO KELLY AIR FORCE BASE
(as published in the Congressional Record)
Seventy-four years after Travis, Crockett and Bowie manned the battlements at the Alamo,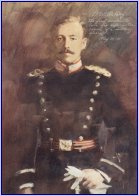 a different kind of warrior made his appearance over the South Texas City of San Antonio. He rode on wings of wood and fabric. In January 1910, on orders from Major General James Allen, Chief of the Army Signal Corps, Lieutenant Benjamin Foulois established a flying field at Fort Sam Houston, Texas. Foulois arrived at the Fort with a Wright flyer, the only airplane in the air service. In April 1911, three young Army officers joined Foulois fresh from Glenn Curtiss' Flying School at San Diego. Among them was a thirty-year old lieutenant from London, England, George Edward Maurice Kelly. Kelly immigrated to America, enlisted in the United States Army and eventually received his citizenship and gained a commission. Volunteering for duty in the Air Service, he trained briefly with Curtis and then joined Foulois at San Antonio. Lieutenant Kelly's aviation career would be short lived. On May 10, 1911, he crashed his Curtiss Type-4 Pusher into the brush near Fort Sam Houston's Drill Field. Lieutenant Kelly became the first American military aviator to die in the crash of a military aircraft. Six years later, one of the nation's premier flying fields would bear the name of this brave young aviator.